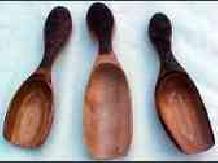 Man these wooden pieces by Dale Randels are just too good. He has designed them keeping in mind both the practical purpose and the design.
The wooden scoop is carved very gently by hand and is unique in shape and form. It has a bark handle and a particular grain that is to be found only in Dale Randles inhabited island Vashon/Maury. They can be used for flour, sugar and rice. Stylishly carved out of downed limbs and pruning they are to be found in its own stand alone color.
Not only the scoop but the wooden spatula is worth very penny. Here again Dale Randals has used limbs of hardwood found in the Island. They are handy while handling the pancakes.
Do visit: artistree