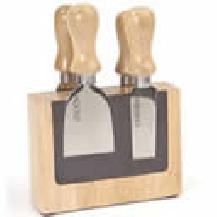 With the Christmas approaching fast here are some essential kitchen items that you need to stuff.
Circular Chopping Board
This chopping board will cost just $9.50. it is circular in shape and got side carrying grooves.
Magnetic Cheese Knives
Priced at £15.00 this set has 4 wooden handled individual cheese knives. They feature magnetic strip and is purely of stainless steel.
Large Stainless Steel Roasting Tin
For the busy chef this steel roasting tin always proves to be handy. Made out of sturdy stainless steel it is best for daily service. Priced at: £19.50
Will keep you updating on more.
For more: Marks and Spencer