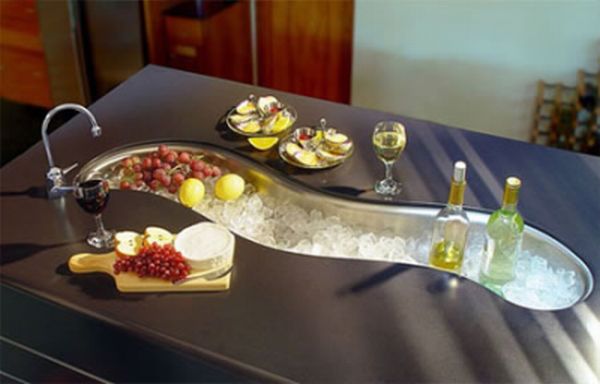 Kitchen is that section of the house where women spend most of their time. They cook delicious food there and provide with tasty dishes, well being and health to the family members. So, it becomes essential to decorate and refashion your kitchen with time in order to freshen up your tasty ideas, mood and routine. Remodeling your kitchen not only makes cooking more fun, but also increases the value and décor of your home. This article provides you with few unique kitchen appliances to remodel and decorate your kitchen.
1. The microwave drawer
First appliance in the list is the microwave drawer. The microwave drawer from the Sharp Electronics is the best one to choose from the store for your kitchen. It is elegantly designed and fits well under stovetops, wall ovens or counters. With this special kitchen appliance, it becomes easy to keep your countertop clutter free.
2. Telescopic swivel ventilation system
A ventilation system is very essential for your kitchen, as it helps in removing cooking vapors and steams. Gaggenau's ventilation system for the kitchen is uniquely designed which confiscate the cooking smell and vapors directly from the stove. Also, the arm of the system can twirl higher and lower and can rotate at 90 degrees. When you're done with cooking, it automatically gets back into the cooking system.
3. Elkay mystic sink
Elkay mystic sink is basically designed for entertainment and décor purpose. It can be used as a self service station in your party for your guests to enjoy drinks. Just fill the sink with ice and drinks, and get ready to shake a leg in your happening party. The mystic sink is artistically designed and the water flows effortlessly through its curvilinear outline. The sink is so beautiful that it can be the centre of attraction for your guests.
4. Wine storage
Are you the wine enthusiast? Then it's must to include a beautiful wine storage in your kitchen. Sub zero's wine storage stock up to 46 bottles that makes your kitchen look clean and uncluttered. Apart from its great storage capacity, it also acts as a refrigerator and provides two individually controlled temperature zones.
5. Drawer refrigerator
To create a hassle free look and convenience in your kitchen, set up a drawer refrigerator in your kitchen. Drawer refrigerator offered by GE double has two separate drawers with adjustable dividers to modify your storage space.
6. EnviroSLAB
This countertop is eco friendly, easy to maintain and made from EnviroGLAS. It is uniquely designed and the glass used in the making of the slab is 100% recycled. It can also resist the heat and scratches. Apart from all these points, it also gives an elegant and modern look to your kitchen.
7. Steam oven
If you're a health conscious woman and want to prepare healthy yet delicious food items for your family, then you will have to install steam oven in your kitchen. Steamed food is much healthy than grilled or roasted dishes. Sharp Electronics' Superheated steam oven reduces fat content in meats whilst maintaining its great flavor. It is the most convenient and healthy selection for you to prepare tasty and healthy dishes for your loved ones.