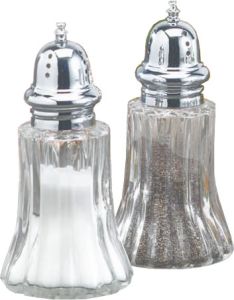 Ever thought of a museum full of salt and pepper shakers? Well, here's your dream museum. People in Iowa were really moved by one woman's salt and pepper shaker collection. So, with the fund coming from the city council of Traer, a museum will be created. The Traer museum will be home to Ruth Rasmussen's collection of salt and pepper shakers.

I think people in the Traer community probably got way creative with their ideas on how to spend the grant they received from the city council. The $12,500 approved by the council is actually a local option sales tax. With this money the council will receive about 14,400 pairs of salt and pepper shakers. Wow! That's an insane number of table items.
Traer community members have been brainstorming this idea of starting a salt and pepper shaker museum. At a particular point, Rasmussen's collection of salt and peppers were considered to be the largest by the Guinness Book of World Records. Rasmussen's shakers come from around the U.S. as well as from all over the globe in various shapes and sizes.
I think the best part is Rasmussen's logbook. People from all around the world visit Iowa to check out Rasmussen's collectibles. These collectibles are good enough attractions for motorists passing through Traer on U.S. Highway 63. So, it is worth to devote a museum on Rasmussen's collector shakes.

Image Credits: Acemart