Faucet is one of the most useful fixtures found in a kitchen. Initially, it was nothing but a simple tool for washing cooking utensils and preparing foods. But new kitchen faucets are coming up with lots of exclusive features and improved functionality in order to help users enjoy easy and trouble-free operations. If you are yet to buy right faucets for your kitchen, here are some tips for you: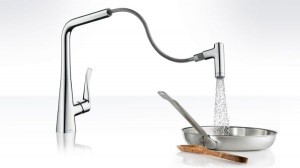 Consider Right Mounting Options
While installing a new faucet in your kitchen or simply replacing the old one, the first thing that you should take into account is choice of mounting.. Usually, there are three different mounting options for your faucets.
There are deckplate faucet units which hold the components in a single mounting plate, cover maximum 3 sink holes.
If you want to fill all 5 sink holes at a time, choose non-deckplate faucet units in which the components mount separately on countertops or sinks.
You can also go for wall-mount faucet units, which are mounted on the wall right above the countertops or sinks. These are perfect for undermount sinks and apron sinks that lack pre-drilled holes.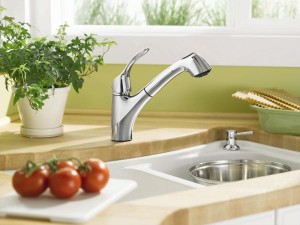 Check Components and their Functions
Once you are done with determining the right mounting options, have a look at the components of the faucets, such as handles, sprayers, spouts, etc. and know about their functions.
Handles – There are single-handle and double-handle faucets in the market. Single-handle faucets can work with 1 or 2 holes and cover maximum 3 holes at a time, while double-handle faucets require at least 3 sink holes to work and have two different handles for the flow of cold and hot water.
Sprayers – You have three types of sprayers to choose from: pull-out sprayers, pull-down sprayers and side sprayers. The curved spouts present in the pull-out sprayers help in pulling the head out. The head of the pull-down sprayers can be pulled down into the sink with the help of the high arc spouts. If you have a separate sink hole, you can easily mount a side sprayer to the side.
Spouts – The height of regular spouts can range from 3" to 5", while high-arc spouts can be 8" to 10" high.
Choose your Favorite Finish
Finally, pick a faucet which has a finish complementing you shade, décor and lighting arrangement of your kitchen. The finish or surface coating of kitchen faucets can be made of chrome, stainless steel, nickel, brass, bronze, solid colors or mixed colors. Make sure that the finish of your chosen faucet makes the item durable and resistant to scratch and corrosion.
Summary: When it comes to selecting right faucets for your kitchen, you need to consider a number of things like mounting options, components and their functionalities, finish of the components, and so on.