Those who love to enjoy the delicacy of their wines outdoor can fasten their belts. Alpina has introduced its Outdoor Refreshment Islands that give you complete freedom to party wherever you want.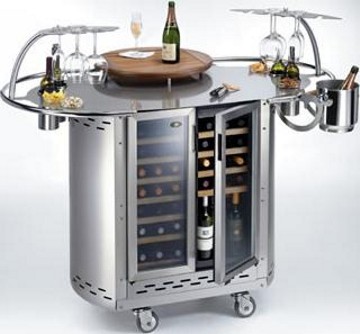 The Bongos Wine is a moble wine cellar that is fully equipped to cater to the needs of your outdoor party. It is a complete party solution that comes with two independent refrigerated wine cellars, allowing you to store different types of wine at different temperatures. Each cellar can hold upto 21 bottles (750 ml bottles).
The workspace of the unit features two flute-racks, an ice bin, eight small containers for bottles and snacks. There is also a removable wooden serving shelf that can be doubled up as a trencher. Other features include electronic thermostat, thermometer and two digital displays for temperature. The cellar is also equipped with optimal humidity regulation.
The sturdy cellar is manufactured in stainless steel and comes with 4 pivoting wheels with brakes that assure you easy mobility of the unit.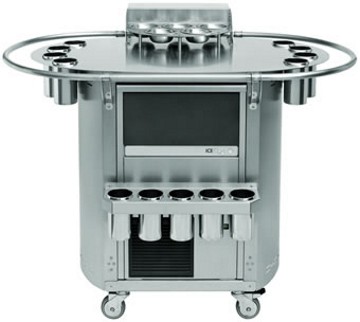 To compliment your wine cellar, Alpina also has this mobile cocktail bar. The mobile bar is equipped with a heavy duty ice maker with a vessel capacity to hold 25 kg of ice (147 ice cubes). The unit also features 5 fruit cups, 11 bottle holders and a tray for cocktails. Like the wine cellar, this unit also comes with 4 pivoting wheels for your convenience.
These Outdoor Refreshment Islands are guaranteed to quench your thirst for an outdoor party.
Contact Alpina for price and delivery details.