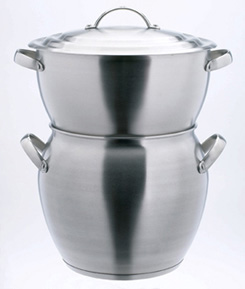 The above couscoussier made of brushed stainless steel by Nigella Lawson is simply elegant and functional. The above pot is for steaming foods upto 5-1/2 capacity and the lower pot is for making stocks upto 7-1/2 capacity.
The extended features of loop handles makes carrying the pots an easy affair. Now you can cook large amounts of food for any occasion in a jiffy and very efficiently. This pot is apt for steaming, braising, making stews and soups and also for cooking oodles of noodles.
So don't you think that your kitchen will rock with this pot. It is available at the online retail store of Prokitchen for $120 only.