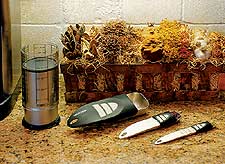 Baking needs apt measurements and for measuring aptly you need to have all the instruments handy. Baker's Pro 4-piece set speaks of a series of measuring tools needed to bake a perfect cake. It comprises an adjustable teaspoon and tablespoon, a half scoop cup and Pro Adjust-A-Cup.
The series is apt for both dry and wet ingredients and also provides you cost-effective measuring. It is made of durable metal and polymer, which not only makes it dishwasher safe but also durable.
This series is available at the online retail store of Smarthome for $30 to save time and effectively measuring ingredients for baking.