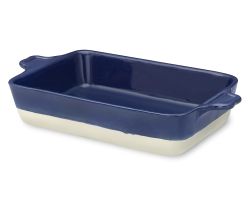 Traditional baking dishes were usually made from clay as they retained heat well. The above baking tray from Emily Henry archive is a 19th century stuff, but designed to suit modern baking. Therefore, this product is tested to be used in microwave, ovens and also for storage purposes in the refrigerator.
The durability of this product comes from the Burgundian clay out of which it is crafted and it is designed to bake souffles, gratins, veggies, roasting meats and an array of desserts.
It is available in the online retail store of Williams-sonoma for $69 only.