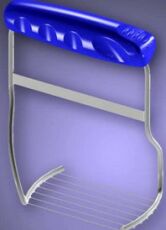 Kitchen Innovations presents you an unique pastry blender that claims to have diamond-shaped cutting blades that would not only give texture control but also amazing speed. It eliminates the need of sifting products before blending as the blender displaces the air gaps while sifting.
The best thing with this blender is that you dont have to bring ingredients to room temperature before blending. The blender breaks even refrigerated dough while mixing it with floor.
This pastry blender gives complete ease to your palms while blending. It is available at the online retail store of Golda's kitchen for $25 only.