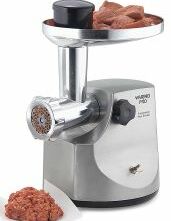 To ensure the freshness of your meat based dishes it is best to take the botheration of mincing tough meats at home. But it is possible to take the botheration out of meat mincing with the help of Waring's Electric Meat Grinder.
This meat grinder comes with three grinding plates to grind your meats and vegetables to a fine, coarse and medium texture. The extended grinding feature attaches two more plates for preparing sausages at home.
The grinder is designed to give you maximum functionality. The stainless steel hopper not only holds a good amount of meat but also provides durability. Moreover, the 450 watt motor grinds your meat faster and with maximum efficiency.
The best past of this grinding machine is that is that it disassembles totally to help you clean and store it.
The Electric Meat Grinder is available at the online retail store of Williams-sonoma for $170.