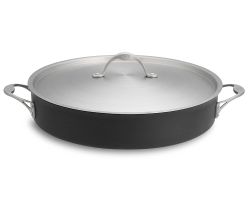 If you are a busy inividual about to host for a dinner party, then the above One Sauteuse Pan, by Calphalon with a 7 quart capacity ios going to solve the matter, from sauteing to braising, from fitting into the microwave to serving the tabletop demands in your kitchen.
The above Sautese has the same Calpholon surface, which uses the technique of anodization, which not only imparts that golden crust to your seared foods, but also makes it corrosion-proof. So here you are with a non-stick quick searing surface for your tough preparations.
This product is available at the online retail store of Williams-sonoma for $100 only.