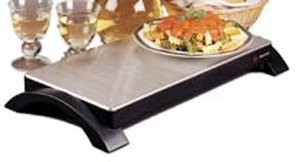 Warming refrigerated foods really makes me feel lazy. But with Toastess' Warming tray, warming has become fun. You just have to plug-on the Stainless Steel Warming Tray and place your dishes on the tray to get it ready on the table within 8 minutes.
Amazingly, this tray does not overheat your foods because of the internal temperature control…that is restoring the frozen food to the right temperature.
The extended feature of this extremely functional tray is that it stays hot for a complete hour, even after it is unplugged. This warming tray is available at the online retail store of Golda's Kitchen for $120 only.