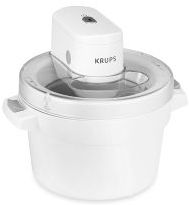 Krups presents Ice cream maker to churn your favorite frozen products into perfection. You just have to freeze the double-insulated bowl and pour the frozen mixture and see the magic through the glass lid.
This ice cream maker churns out 1-1/2 quart of frozen products and the bowl is designed to store and serve frozen products. The ice cream maker comes with a spatula, recipe book and a storage lid.
To order this product vist the online retail store of Williams-Sonoma and get this product for $60.