People these days have literally started living in their work places thanks to the growing competition and increasing work loads. So, their day starts with breakfast in the office and ends with dinner there before they head home for a snooze.
If you are one of those people whose second home is your office, you might as well consider installing a mini kitchen in your cabin so that you can not only eat healthy but also save considerable amount of time and energy from walking to the cafeteria and back to your desk.
So, when German kitchen and appliance manufacturer Miele approached designers Simon Kingston and James Rennick to come up with a kitchen unit that was modular and could fit any environment, they came up with one that suits office junkies perfectly – the Outpost Kitchen.
The idea is to discourage unhealthy desktop dining and to replace temporary kitchens that come up on the window sills. Their design consists of 2 specially designed boxes. They're proportioned to fit a number of Miele appliances and can also be used as storage.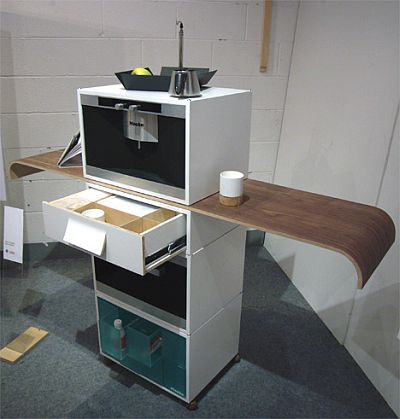 So, the two units come with an induction tea set( so that you can heat your cuppa without stepping out of your cabin), a cutlery desktop, a fruit box, a mini fridge and a microwave, along with extended attachments that could serve as additional table tops for dining. You could even use one of the units to store your files and stationary. In short, it is so versatile that it's left to you to mix and match it with your needs.
I wonder what designers will come up with the next time around. How about a mini flexi bedroom with attached bath? Sounds good nah! You can then shift over completely to your office and use up the saved rental for something else!