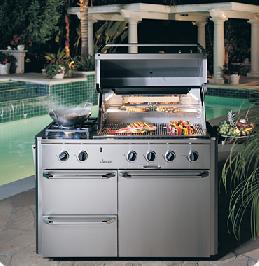 It is winter and its time to go bang by partying and organizing picnics. Here is a robust and sexy Epicure outdoor grill: easy to handle and maintaining as well it can cook your favorite dishes upto ten times fast then any ordinary grill.
The grill will be source of thrill for the chef who just loves to cook and entertainment his guests. In the cooking world it is industry's first built-in-halogen lighting system and can illuminate the cooking top neatly even after the sun sinks in the night sky.
The outdoor grill is absolutely systematic and balanced power control that gushes out through the three u-burners.

What are you waiting for? Get this for you open kitchen.
Check out: