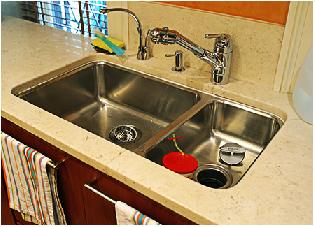 Kitchen sinks get very slippery and sticky as we tend to dump all the dirty dishes and food ingredients in it. From time to time cleaning the sink becomes necessary so that it retains the neat and shiny look. Different cleaning procedures are to be followed for maintaining varied designs.
In case of the Porcelain Enamel Sinks, the acids are not to be abandoned for long time as it might cause lot of stains which will further aggravate the cleaning process. What need to be set in them are the perforated or plastic mats that will help in keeping them shiny.
Place perforated rubber and plastic mats in the stainless steel sink to cut down the scratch and marks caused by the pans and tableware.
To clean the sink apply a mild liquid detergent along with water, leave it for few seconds and then rinse it and dry the sink by using a soft towel.
Read more:Web1