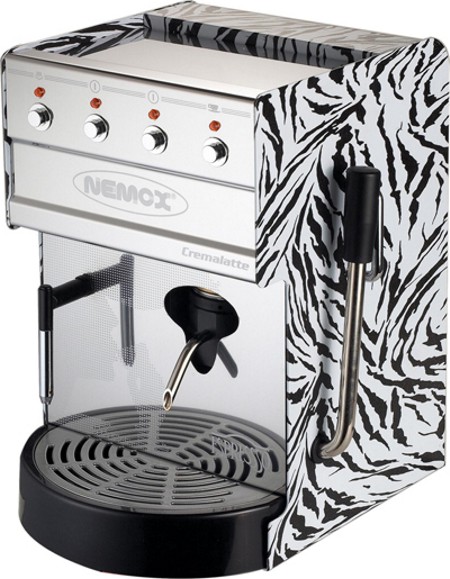 Ever tried taming a wild zebra? Nemox gives you the chance to indulge in the beauty of this wild animal with its latest espresso coffee machine.
The Cremalatte Zebrata espresso coffee machine is the new Espresso Animal coffee machine from Nemox. Taking inspiration from the animal with the highest contrast ratio, Nemox gives you this beautiful piece of art. The black and white stripes clearly stand out in the crowd, and are guaranteed to multiply the beauty of your modern kitchen.
The machine features a dual-pod system for continuous extraction of espresso coffee and Cappuccino frothing system. The two different-sized pods are easily interchangeable, to compensate for different types of pods and ensure proper fit. The machine is equipped with a large capacity water tank, cup warmer tray and two independent heat exchangers thereby giving us the advantage to dispense coffee and froth milk at the same time. The expresso heat exchanger is made of brass whereas the steam heat exchanger is made of aluminum. Within two minutes from start-up, the machine is ready to serve you.
The Cremalatte Zebrata sells for about €700 at Nemox.