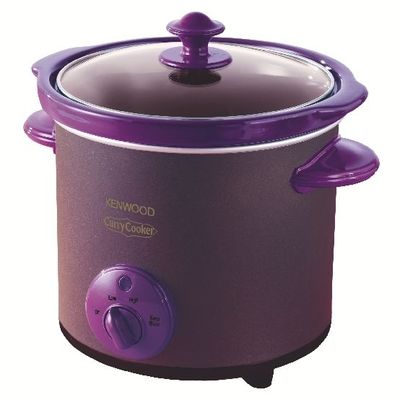 The mere thought of curry can make many mouths watering and if cooked in style then it is bound to get more delicious. To the delight of gourmet, Kenwood has launched easy-to-use, Curry Cooker that will enable you cook your favorite food quickly.
In case if you are new at cooking job and have always taken cooking a tedious and a messy job then Meena Pathak's recipe book that comes along the cooker will be a great help to get all that admiration from hubby and unexpected guests.

Available at Amazon for £29.99 the cooker comes with a 3.5 liter ceramic pot with low high and keep warm functions which will help you to experiment all your favorite Indian recipes.
The best part of the curry cooker that has made me order one for myself is the ceramic pot that is detachable and can be used as a serving bowl on the table.
With bright vibrant colors (textured black body and purple crock pot) and its stylish circular design the Kenwood Curry Cooker would add wonders to any kitchen and will also bring Indian taste to your home!
Source: Pocket-lint