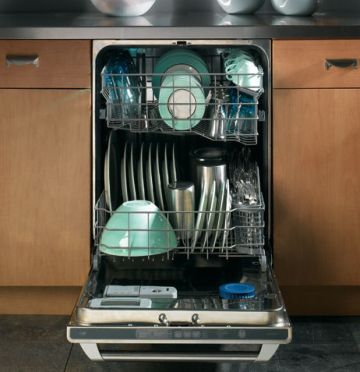 Kitchen is the heart of every home and to have a light atmosphere, all of you have to make sure that the kitchen is clean and neat.
However, I find cleaning the kitchen especially thousand of dishes when guests are around due to some special occasion. Next time, when guests have a great time at your home, clean up the mess with the GE Cafe dishwasher which comes from the bag of GE Cafe Appliances.
The company is known for its innovative design and creative engineering edge. The dishwasher also has been embedded with advanced technology.
The dishwasher holds up one bottle of liquid automatic dishwasher detergent which it uses judiciously enough. It also contains GE SmartDispense technology which checks the hardness of water and a 6-Level BrilliantClean Towerless Wash System with CleanSensor that makes sure that your dishes are as clean as new.
An added advantage is the fact that it akes no sound and is a silent machine. It also incorporates a huge Maximum Capacity Nylon Racking where you can leave the dishes to dry up.
Not only this, th dishwasher is so high on technology that it also features stainless steel tub and door liner, fully integrated electronic Light Touch control panel, automatic temperature control and sensing, Piranha Hard Food disposer, last cycle memory, turbidity CleanSensor technology, cycle progress indicators, child lock, anti-bacteria system and triple water filtration.
The price tag reads $1,250 but keeping in mind the various features of the dishwasher, that isn't too much!
Source: Appliancist