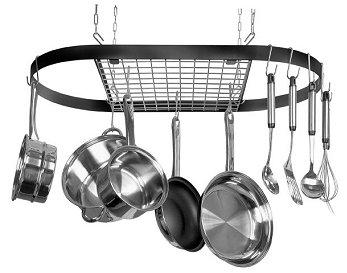 There is no use stocking your kitchen with the best kitchen gadgets or appliances, until and unless you organize your kitchen. In other words your kitchen should not be a store room of junk items but those, which are required while cooking. The kitchenware listed down in the Cincinnati Post come handy while cooking and they are easy-to-use.
The stainless steel clip-on spoon by Trudeau Inc., is very reasonable at $6.49 and will prevent you from messing up your kitchen platform or your fingers, while pouring oil.
Kuhn Rikon's new 10-inch double balloon whisker makes whipping curds, eggs and other juices easier as the long handle gives easy grip, the double balloon has more wires to whisk more quickly, the stainless steel wire does not let the food stick to the wires an the spring at the head speeds up whisking. This product is worth it at $13.95.
Thermo Whisk by Cuispro whisks without allowing air to penetrate while whipping and it has a digital temperature indicator to signal when the whisking is done. The only disadvantage of this tool is that it is not dishwasher safe. This tool available at $26.99, is worth a try and is user-friendly with a flat shape and is also time-saving.
Scooping foods and fruits is a messy job but GE Lexan resin cookie dough-size and ice cream scoops have rubbery back, which does not let the food stick and hence allows convenient scooping out. This tool at $3.99 is makes your juices easy to make and scooping pulpy and semi-liquid stuff an interesting stuff to do.
What about peeling and mashing steaming hot potatoes? The Simply Mash Potato manufactured by the Chef's Planet does not pain your wrists and hands. The best feature of this $8.99 is that the starchy and sticky potato does not to stick to the masher. You can use this masher for mashing vegetables for baby, boiled eggs and many other stuff.
Now tell me, what is more interesting small and handy stuff or sophisticated tools that can be used only on Thanksgiving and Christmas? These small tools can be very useful when you are running out of time and a kitchen revolution demands a collection of useful tools only.
Kitchen Revolution: Cincinati Post