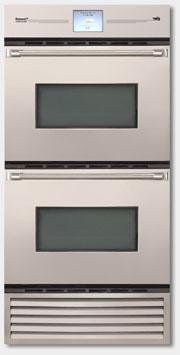 Goodness Gracious! Can you people rate how intelligent an oven can be, if you cannot catch TIMO's intelligent oven right away.
The Dual oven refrigeration, allows you complete freedom of leaving your pre-packed foods wherever you are and cooking it later, from any part of the world. You need to have an Internet connection, Cell Phone and Telephone.
The features of this food are as follows:
1. Cook meal in very less time
2. Connect Io allows you to access it with telephone device.
3. It signals the device to which you are connected, when the food is ready
4. You can program your own cooking method and add cooking steps, delete, or edit them as per your requirements
5. The 3MTM Touch Systems ClearTekTM 6.5-inch capacitive touch screen, can stand high temperatures, abrasions and an out and out messy kitchen
All this in just $9000. Believe me I doubt whether, you have come across such advanced food tech products…so $9000 is worth it. What more if your wife can serve Holiday gourmets, while working at office and stop worrying if you do not know how to cook. Cooking becomes as simple as the Intelligence of the Intelligent Oven.