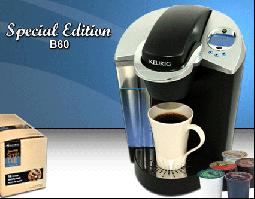 The Keurig coffee brewer is real fast as it serves a single cup of coffee in less than 45 seconds…that is pretty fast.
The features of the K-Cup are as follows:
1. Microprocessor Technology forces out required amount of water for maintaining the quality of each cup, to ensure a uniform brew.
2. The K-Cup provides the finst brew as it has the finest Arabica beans.
3. Brews 8 cups of water, before refilling the brewer
4. Manual pour over of water and manual removal of cups
5. The mini chamber of the K-cup solves the spatial problem
6. It is very easy to use as you just have to select the menu, touch the brew button and get a ready-made cup of coffee in less than 45 seconds.
The look of the brewing machine is simply sexy and sleek with a black body,with chrome accents. The special edition costs $200 and is called as B60 and consumes 150 watts of power.
You will not get a faster cup of coffee so place your order right now at:Keurig