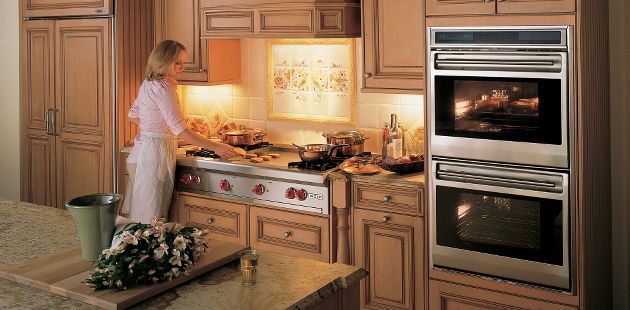 Kitchen is a place for you to make your loved ones happy by preparing the what they love to eat. With the modernization, the kitchen has also undergone many innovations and changes.Today's kitchen has a utility value and a great significance in everyday duties. With the addition of modern gadgets, there are many time saving solutions to our modern kitchen. The kitchen above is spacious with a double oven range and a pantry, cabinets and counter work area. The back splash of the kitchen is invigorating and you can see it's projecting as a focal point in the kitchen. The counter top is speckled beige and adds a neutral element to the kitchen you are seeing in the picture.
1.Double Oven In The Kitchen:

Double oven is for baking and warming all can occur at the same time. You can bake in the upper oven and get bread and warm a chicken in the lower oven. The best part in this kitchen is you can have a meal without wasting time. Even if you are tired a meal for you is very near when you get home.
2.Range :
A range with four burners and a hot plate is a requirement in your kitchen. If you are aiming to warm bread slices you can use the hotplate. Very important on week ends and if you have to support a big family four burners are unavoidable.


3.Pantry:
A pantry is a place where you have to store your kitchen needs. Spices and condiments on the upper shelf, carbohydrates on the middle and lower shelves. Store a few pasta, grams and beans for your kitchen. You can also keep a few canned goods in your kitchen pantry. Don't be scared if you have unexpected guests in your home. Save a few food items for your emergencies too.
4.Island Counter Top:
Island counter top can give you space to work effectively, cutting and chopping and keeping gadgets. If you pull a few chairs you can make a small dinning area in our kitchen itself. A morning hot breakfast in the kitchen and all set out to their duties; and to help mom early in the morning. A faucet is part of the kitchen island and the faucet can be beautiful and can have extraordinary designs. Faucet is an element of interior design in your kitchen.
5.Cabinets ans Drawers:
Cabinets below and above can store cookware; the drawers can place silverware in an organizing kitchen. If you like a warming drawer you need a reinforced cabinet with power supply.
6.Lighting:
Lighting in the kitchen is very interesting and see the focus area of the light, it falls on the cooking range. Hanging lights in your kitchen above, or adore the counter top with sophisticated decoration and purposeful lighting. The lighting is to give an ambiance to the kitchen and the depth is important as kitchen is an area where you need to have a proper vision.