In all households, we spend a considerable time in the kitchen making things that makes us happier. But what we always avoid to ponder into is the lack of ambiance in the kitchen. Ever wondered the kind of kitchen you have adds a lot in your style considering the fact that it is a investment of lifestyle at a place unexpected ? There are companies and a huge market which have come up with decorative kitchen hardware to add to your style of living.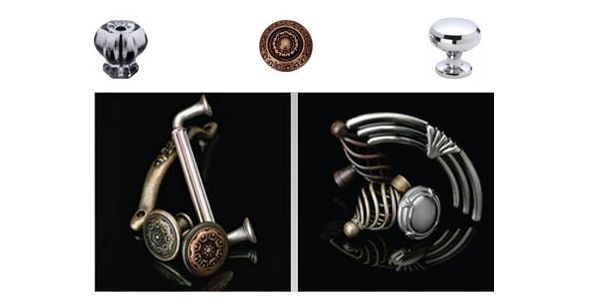 So, you have got lots of choices of material to choose from as per your preference. You can have it in acrylic, brass, wood, ceramic, glass or chrome plated. They offer different looks that goes with the look of your walls and theme of your house.
Every variant has a different look, class and a whole theme behind it. But beware in the readiness to get the best of style, do not compromise on comfort and ergonomics. Also check out what your preference is. Like what is the best material you would like to have a touch and feel of. A beautiful handle should not be tacky enough to handle.
Think logically when it comes to decorative hardware, size matters. It does not make sense to use a 2″ knob to open a large drawer. The handle should be wide and long enough to evenly distribute the weight and pull out the drawer. One of the popular style is the long thin steel handles and add to the sleekness of your space. These pulls are also coming in heavier and thicker material with dark finish. Check out the grip of it on your hand and how you are going to use it as. For example, a knob used in racks might fail to give you the right grip but handle in its place will be too lot of hardware in your sleek kitchen. Be careful, if the handling of the any hardware hurts even slightly because you are going to use it for long and not regret buying it.
These are also available in many different finishes and materials and each company differently interpret their product. For example, an oil rubbed bronze of two manufacturers may look same but they come with two different names so Instead of browsing through the internet it is better to take a look and feel of the product to get the real idea of the color and finish. Different companies offer different finish for the similar looking product but they start looking different with time and use.
Also be very cautious in selecting the right color and variant of material as it may look odd in your house and out of theme. Apart from that do not forget the maintenance aspects of it. Since they cost dearly and remember these fixtures should be easily removable in case you wanted a quick refacing of your kitchen.
But above all what matters most is how satisfied you are with the buy. So, enjoy a good life!!