The role of kitchen in the home has totally transformed from being the 'meal-making corner' a few decades back to being the 'heart of the home', where people spend their few home-hours eating chatting and lounging in general.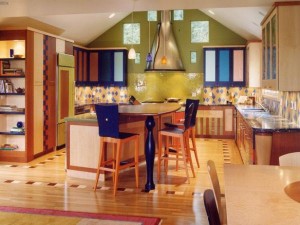 Hence, it doesn't come as a surprise that kitchen designs today are evolving to match the space usage at one's home. In simpler words, a kitchen's functionality has to match with the manner in which the space is being used. So all the latest interior designs reflect this trend with wide and open clutter-free spaces, efficient organization tools, intelligent seating arrangements, dining table placement, working zones such as baking station, coffee centre or cocktail area, etc.
Hence, the traditional triangular sink-range-refrigerator concept has now evolved into different types of work zones. Here's a few:
One Wall:
This kitchen design is the final word when it comes to space saving and can be found in studio apartments or even loft spaces. While traditionally one wall kitchens consisted of all cabinets and appliances fitted onto one wall, recent modifications include an island so as to evolve the space as a galley style with a walk-through corridor.
Galley:
A lean layout suitable for smaller and specifically one-cook kitchens, the galley has evolved as a design that consists of two parallel countertops against two opposite walls with a walkway between. This design is one of the most efficient of all which doesn't lose even a sq inch of space.
L Shape:
If you are having an issue maximizing the corner space you have and if your kitchen size is small to medium, an L Shape kitchen should be ideal for the purpose. Having adjacent countertops against two perpendicular walls, the L Kitchen eliminates traffic and facilitates having multiple work zones and dining space.
Horseshoe:
Also known as the 'U' Kitchen, this design traditionally used three walls for cabinets and appliances while the latest trends showing the use of an L kitchen with an island as the third wall. Allowing free traffic flow around the island, the Horseshoe allows for more than one cook.
Island:
The best designed working kitchen that is considered to be the most functional, this allows addition of working surfaces along with place to eat, to prepare food, to store beverages and the like and can create a galley design from a one wall kitchen as well as a horseshoe one from that of an L. However, this design requires enough clearance.
Peninsula: 
A connected island that transforms an L to a U, or a U to a G design is what is known by a peninsula kitchen. The peninsula functions more like an island but provides for more clearance in kitchens where there isn't enough square footage.