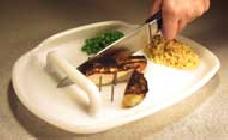 If you think that cutting meat is a very tough job. Guys think again before you say that again. Now your darling hubby can help you in the kitchen while you are looking after your baby.
EZ Dine is one prep board of its kind which can be used both as a dinner plate and a cutting board for meat or vegetables. The best thing about it is that you don't have to use both your hands while cutting things.
The plate was a spectacular designed made by a man who had been suffering from a painful spinal cord injury. The unique feature about the product is that it won't keep sliding round and round over your counter-top while you are cutting the things. The EZ dine features a food stop that helps to scoop the food to another utensil without the stuff being spilled fro the plate.
Read more: Dynamic-Living