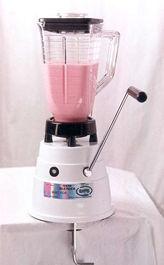 You have some guests coming and the there goes the light. You were just about to prepare some floats and mixed juices. Well ladies, here is this real quick Hand cranked blender that will help you in preparing those fresh items.
Just peel the fruits and put them inside the jar and turn the crank and bingo your juice is ready for serve. No need for electricity, there are two different gears, both high and low gear that helps in the process.
The blender can chop anything from vegetables to fruits and ice.
Courtesy: Lehmans