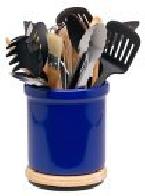 A good gift for a would-be-bride. The 20-piece deluxe rotating Tub O Tools Set is a real handy stuff that you can get for your kitchen world.
A design by deluxe Chef Philippe, this kitchen product gives you the true value for money. The set houses multitude of cooking appliances all placed inside a revolving cylinder. Made of enameled porcelain, spinning cylinder features a durable handle and is resilient to any sort of stains, odors or graze.
The deluxe rotating tub is also available in different colors. Get it from your nearest store now.
More at: Amazon