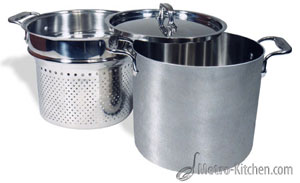 Stockpots should be deep enough to carry enough stocks. All Clad presents a totral assortment for it in MC2 Master Chef 2, 7 qt. Pasta Pentola with Lid & Insert, where the Stockpot is 7 1/4″ deep, weighs 7 lbs and holds 7 qts…huh! large enough to carry a pint of all meat broths.
The heat distribution of this Stockpot is amazing as the aluminum core and exterior distributes heat evenly and the stainless steel interior does not let it react with the food's stock. To add functionality All-Clad has added a stainless steel pasta insert. You can also steam veggies, noodles, pasta in this steamer and place it in the stockpot.
This Stockpot is available at the online retail store of Metro Kitchen for $285.