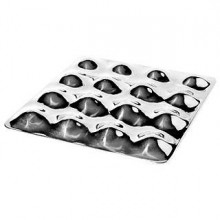 Hive Modern presents Fruit bowl in a unique tray-design. This fruit bowl has been designed like an inverted egg tray, so as to hold the tip of the fruit and leave the rest part fresh.
This attractive tray can also hold berries and nuts. Though it is more in the look than in the functionality that appeals me, yet it cool enough to make a style statement with this fruit bowl.
This unique tray is available at the online retail store of Hive Modern for $155 only.