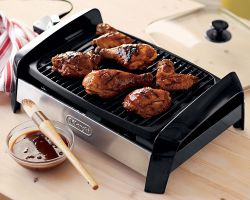 DeLonghi brings the joys of outdoor grilling inside your home with the Cast-Aluminum Indoor Grill.
This electric grill is powered by 1500 watts, to tell you how fast it does the job on the cast-aluminium grate, with embedded heating elements for uniform heat spreading.
The best part of this grill is its temperature control for hard-crust to a slow searing and this is provided by an adjustable thermostat.
This portable but perfect indoor grill is available at the online retail store of Williams-Sonoma for $100 only.