Working in small and crammed kitchen frustrates people. Remodeling the kitchen gives better experience. One can change his/her experience by simply changing or remodeling the look and its amenities in different ways. There are a few things that must be remodeled to experience a worry free kitchen atmosphere such as replacing cabinets.
Ways in which one can remodel and update their kitchen are as follows-
Changing the cabinet or refacing them- changing the cabinets is perfect for remodeling the kitchen. The old, out dated and dingy appearance of the cabinets discourages from working in the kitchen. One does not need to completely replace the whole cabinet. One can refresh or reface the cabinets.  This will give new look to the kitchen. The different new colors can make the kitchen look bigger. By refacing, one can simply change the door of the cabinets with brighter colors. Hence the expenditure will also be less. One can update the drawers and pulls in the cabinet including the hinges and handles. This will totally change the outlook of the cabinet.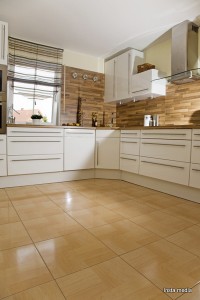 Installing new flooring in the kitchen- the worn out linoleum gives an impression of old kitchen. Changing the flooring will definitely help in giving out new looks of the kitchen. One can use natural wood flooring. It can be matched with similar ceiling and cabinet doors. It creates perfect new remodel of kitchen.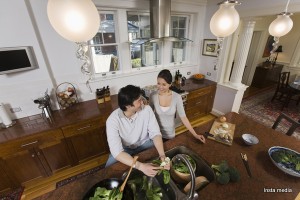 Increasing the lights in the kitchen- 
Increasing the lights in the kitchen will give better impression and will enhance its color and new cabinets and appliances. It will make the kitchen more pleasant. Large windows and different types of skylights will produce new look in the kitchen. According to the folks at Allstate Roofing, skylights offer a variety of advantages: "Skylights can provide light for rooms that do not receive a lot of natural sunlight, they can provide natural heat depending on the type of skylight, and they can make the room appear more open." If you don't want an expensive remodel, pendant lamps in the kitchen will make the kitchen brighter and even beautiful. The soft ambient lights from the cabinets will produce soothing and calm effect in the kitchen.
Buying new appliances– new appliances such as stoves and microwaves must be added. This is because the newer appliances not only saves money in the long run but also saves energy. Replacing fridge with new ones will take same space but the fridge will have more space inside.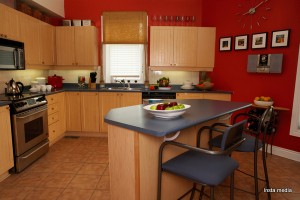 Adding colors– adding colors in the dull kitchen will make it more bright and lively. Bright colors will make it look bigger whereas dark colors create the ambiance of coziness. 
Updating the kitchen has become very easy and less costly. Remodeling the kitchen will not only save money and costs in the near future but also new kitchenware will save time and energy.