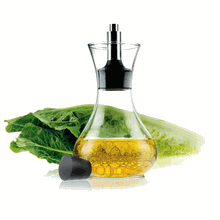 Tools Design presents the ultimate oil and vinegar shaker. The specialty of this shaker is that it not only saves the aroma of oil and vinegar under the tight-fitting rubber top, but also contols the flow of oil and vinegar, while you add them on salad dressings.
The best part of this glass shaker is that it is both microwave and dishwasher safe and it can be used for storage of aromatic spices, herbs, dressings, sauces and even marinades.
This shaker is marketed by Eva Solo and is available at the online retail store of Design Store for $40 only.