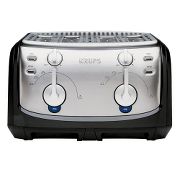 Hammacher Schlemmer presents the most functional bread toaster with four toasting units and two rotary panels, which will enable you to toast bagels for your baby, brown bread for your honey, bun for your daughter and some muffins for yourself.
Moreover the temperature controls has eight different browning settings for the toast that you want for different breads. A bagel setting helps you to toast the sides and automatically warms the crust of the bagel. The extended features offers a removable warming tray, which is dishwasher safe.
This toaster is available at the online retail store of Hammacher Schlemmer for $100 only.