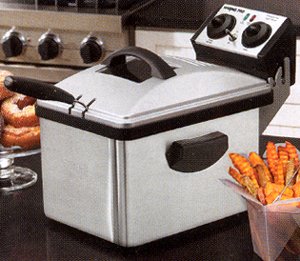 Deep frying foods can be real fun with Waring Pro's Deep Fryer built in a unique style. This deep fryer can crispy-fry more than 3 pounds of foods in its immersion style, 1500 watt, heating element, which sits over a heavy mesh basket.
This deep fryer has the extended feature of a dome lid with a condensation catcher. This lid also prevents spilling out of oils and the glass window helps you to see the food while it is browning.
The functionality of a 30 minutes timer, adjustable thermostat, auto shut-off, control panel security interlock makes it completely safe for use. This appliance is available in the online retail store of Golda's Kitchen for $150 only.