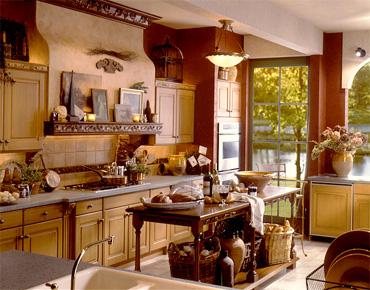 2005 flanks designs that are more personalized. The yesteryears kitchen trends were more bent on the traditional designs. But in stark contrast to that today the importance is on variety and a personalized style. Folks check this carefully. Homesite after a small chit chat to kitchen stylist Simone Gillespie and Inside Out magazine editor Karen McCartney to come up with " the ultimate design trends".
The upcoming trends are a highly stylish uptown look, a wild and hot funky downtown look, and the other on is somewhat closer to the rustic world. The first and the second design are all bout the luxury and comfort. But it is no more focused on the monetary thing. It is more of the high-end look that sophisticated touch.
It is all about high fashion that inspires this kind of design. It is more of an extremely urbane ambience. It houses sexy colors like the amethyst purples, Brazilian reds underscored by sleek blacks and rich browns. There are also the metallic shades. The color brown is no longer considered as an earthly color but as a glamour color. It is also predicated that emerald is going to be the most wanted color of the year 2006. This trend is also a reflection of the fusion of modern and the old renaissance period and not just confined to the bygone period. Everything about this trend is traditional yet with a contemporary feel.

The third part is all about the wilder and the funkier part of life. It is not a formal set up but all bout fun and entertainment. They believe in conveying the message "Don't take your surroundings too seriously." The colors used here will be warm pinks, apricots, mimosa yellow, rouge red, dewberry.
There is one more category, the Pique-Nique, which is casual and outdoorsy and believes in engulfing the nature all around and diffusing within the room. The colors here include Baked Apple Red, Porcelain Green, Melon and Pecan, polka dot.
The beach style deseigns are also being greatly followed in the present society.
These infectious designs will surely be a craze in the year 2006 with more and more things which will be merged to create new things.
So that is all for the day. More designs will be coming up soon.
Read more: Home site