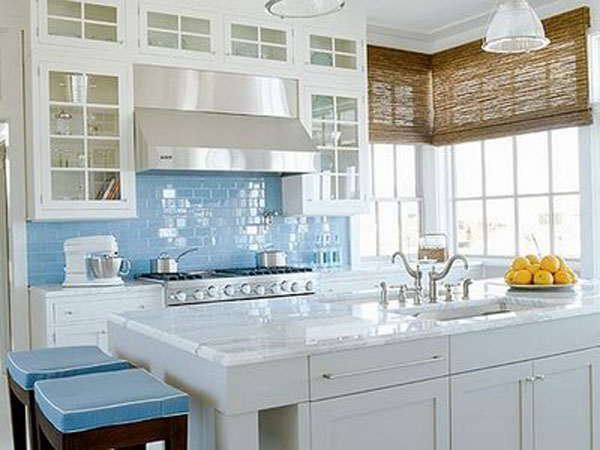 When it comes to decorating or remodeling a kitchen, people find it more difficult and expensive. Since kitchen holds a special prominence out of all the other rooms in a house, people always give extra thoughts and time to make it unique and attractive. However, the designs, colors and themes matter the most as demanded by the house owner. On the other hand, blue is the widely used color these days which is demanded by many people across the globe.
Therefore, if you are planning to get a blue themed kitchen which is not only attractive, but also provides serene ambiance then try some of these tips given below.
Blue colored walls
Designing a room basically starts from its wall, since first it demands attention than any other things present in the room. Despite using a normal blue color which is very common these days, you can plan something new which will add to the beauty of your kitchen. If you are graphic or modern art fanatic, then you can opt for glass tile. Glass tiles come in variety of designs and bring elegance to the room. Before planning and implementing the same at your kitchen, you have to first consider the temperature at the place where you stay. If the temperature remains cold year round or if you stay close to ocean, sea or lake, then your home must of course be planned accordingly for long lasting results. If you have planned the entire room to be made of durable wood then the kitchen theme should go hand-in-hand. Kitchen made of wood and boasts blue glass tiles will automatically bring the uniqueness.
Cabinets and countertops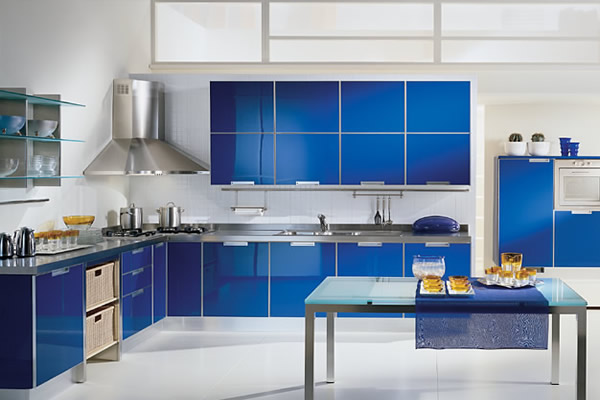 If you are among those who don't have much time to work in the kitchen or keeping things in the right position then opt for wardrobe system. With all the drawers and cupboards finished with long lasting wooden material, you get enough space to keep all the utensils without even placing them in a decorative manner. Stylish latches and pulls will make the cabinets look attractive. Apart from cabinets, you also have to consider the best countertop. If your kitchen boasts all light themed designs then it is recommended not to go with granite which seems heavy. You can think about various types of marbles such as white Manhattan Calacatta marble. White color will perfectly complement the blue color. Besides, you have to properly play with the blue color to bring style and comfy atmosphere. In this case, you can't make the entire room filled with blue. A touch of white will fill all the gaps and bring a pleasant ambiance.
Lights and decorations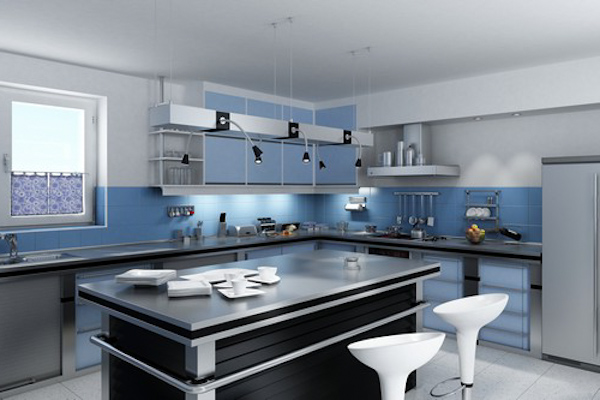 You have to work as per the theme you have set for your kitchen. Be it traditional, modern or a blend of both, the lighting plays a significant role in turning your mood and creating a distinct atmosphere. If it is a blend of traditional and modern design which is the trend nowadays, then go with hanging lights at the ceiling. Nautical lights with heavy plating will bring romantic feeling. A porcelain sink should be added to complement the white and blue theme. Steel sink will spoil the mood and look. Besides, curtains are the other decorative items which add elegance to the room. White and blue designed curtains made of cotton or transparent material will give finishing touch. All these settings can be done at very low prices including the white and blue chairs with wooden polished table for perfect blend of colors.