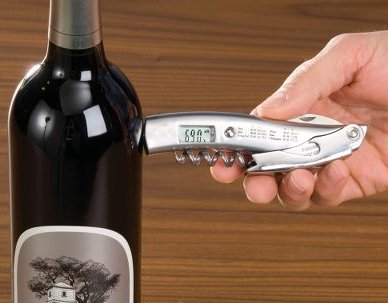 This is one hard-to-resist gadget that any wine-loving gadget freak will love to treasure. This corkscrew is equipped with an in-built infrared thermometer that measures the heat signature of wine and champagne from outside the bottle.
Apart from a sturdy stainless steel grooved spiral worm, serrated foil cutter, and lever, the corkscrew features an illuminated digital display that shows the temperature of any bottle when you place it near the glass and press the button.
To help you further, the corkscrew is imprinted with suggested serving temperatures for six different categories of wine, thereby allowing you to enjoy your wine at the optimal temperature.
Treat yourself or impress your guests with a display of unmatched hostmanship with this amazing corkscrew.
The corkscrew cum infrared thermometer is yours for $129.95.