If you are planning for a kitchen renovation in recent times, you should have also included the installation of a reliable light source in the list of to-dos for the heart of your home. Well, the light in a kitchen must be good in terms of both form as well as function, and if you want to get the perfect combination of both of these traits, you have to invest in kitchen pendant lighting. It is available in a variety of options and you can make the most of this lighting due to its versatility. Dr Prem Jagyasi suggest some tips that you need to keep in mind while installing a pendant light source in your kitchen: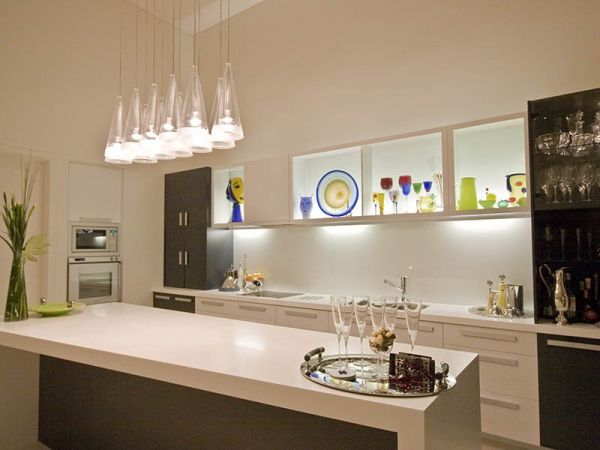 Basic Things to Know
From providing enough light for enlightening a particular task to simply taking the décor of your kitchen to the next level, a pendant light can serve almost each and every purpose. It can draw attention to certain areas of a room through accent lighting or put emphasize on a precise area through task lighting. In short, it can make a huge difference by lighting up your overall kitchen. However, you must buy a light diffuser or a few semi-opaque bulbs along with it in order to stay away from circles of extremely bright light.
Selection of a Pendant Light
Choosing the right kitchen pendant light can be a bit tricky. Remember, you will need a bigger light source to light up a larger space. A bunch of 3 to 5 small pendants is ideal for hanging over the kitchen island or the dining table. A small single pendant is enough to enlighten a desk or sink area. If you are seeking a good solution for task lighting, nothing can be better than a top-open pendant light. On the other hand, place your pendants in an even way throughout the kitchen in order to keep the entire room illuminated,
Installation of a Pendant Light
Apart from the selection, the installation of kitchen pendant lighting is also very important. There should be a gap of 12 to 20 inches between the ceiling of the kitchen and the pendant light. If the height of the ceiling is more than 8 ft., increase the gap 3 inches for each foot. Conversely, the space between the countertops or kitchen tables and the light should be at least 30 inches. Make sure that you purchase the pendant lights that come with dimmers or adjustable switches. It will help you alter the height as well as the level of the light as per your needs.
Summary:
A kitchen pendant light works as the best source of lighting for your kitchen. In this article, we have provided you with some basic knowledge about this exclusive lighting source.