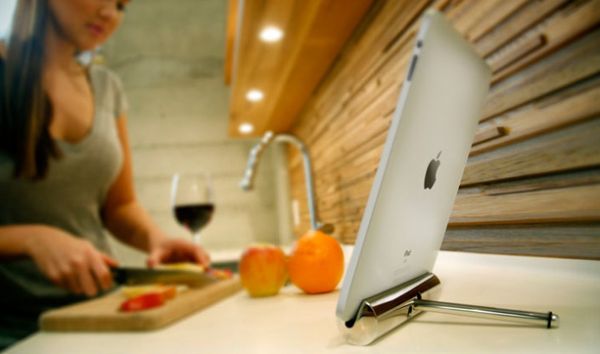 Tech-savvy cooks are increasing day-by-day. Most of these people bring in their iPads and use them for various purposes such as listening to music, looking up a cooking video or a recipe or watching their favorite TV show. Though there are a lot of risks associated with having such a delicate device in your kitchen, you can use some of the accessories that are meant for the kitchen without causing any danger to the device as well as your recipe. Here are some of the 'must have' devices that can enhance your cooking experience in your kitchen.
1. Belkn iPad Chef Stand
The stand has been specially designed for use in the kitchen. It is compatible with various kinds of cases and you can even adjust it to two different angles. The base is made of rubber and prevents it from slipping. The best thing is that it comes with a stylus so that you can operate it without using your sticky fingers. The magnetic tip of the device is used for navigating the screen.
2. Vogel's RingO Tablet Starter Pack
This special mount can be used anywhere so that you can attach your device anywhere such as a cabinet, the wall, on a stand and even your car. It is the best accessory for your kitchen because you can easily mount it in such place where you can have it to your eye level. It can be placed at a safe distance from the hot stove or the messy countertop. The starter pack has a wall mount and a tablet holder.
3. Chef Sleeves
This is a very useful tool for keeping your iPad safe from your messy kitchen interior. The disposable chef sleeves is a thin and protective film that provides crystal clear images and makes it very easy to use the touch screen as well. The sleeve can be secured with the help of a resealable strip so that you can use it several times. The sleeves are available in a box containing 25 pieces. The package itself acts as the stand for the iPad.
4. Griffin Cabinet Mount
Some years ago, certain home cooks cleverly installed cook book stands under the cabinets. The stand was placed in such a way that it was perfectly in level with your eyes. It even freed up the counter space. These days, most of the chefs are looking up the internet for their favorite recipes and cooking videos instead of using the old recipe books. The Griffin's stand is very special because you can mount it easily on any side or below the cabinets with 14 inches of space. The iPad can snap securely to the brackets that hold the iPad on the four corners. It also comes with an extendable arm so that you can rotate it from side to side or front and back. So you can always enjoy a perfect angle view. The best thing is that the stand can be folded back completely and goes out of sight when not in use.
5. Belkin Magnetic Refrigerator Mount for iPad
The refrigerator mount can be used easily without the help of any installation or hardware. You can easily affix it to any smooth vertical surface or the refrigerator surface. It is held with the 3M CommandStrips that leave no residue when removed. The magnet on the iPad is also responsible for holding it in place inside the mount.
Using one of these mounts in your kitchen can help you to use your iPad in your own convenient way. Enhance your kitchen and cooking experience by choosing and using one of these.