So, you are opening a new commercial kitchen? Well, that's excellent news, and we wish you all the best for your new venture. For the infomercial kitchen, you will need a few essential pieces of equipment that will contribute to your success. We have created a list of all equipment required to have the bases of the kitchen business covered.
The commercial kitchens require a good deal of equipment with great industrial strength, including proper ventilation systems, walk-in coolers or freezers, hoods, etc. The entire process may seem a bit overwhelming in the beginning when you are getting started with your first establishment, and the list of equipment keeps getting longer.
We have made things easy for our readers. This article lists some of the essential equipment without which a commercial kitchen cannot think of surviving. You can also go through a few critical guidelines to narrow down the appliance and equipment options. Without further ado, let's get started.
●    A Flat Top Grille
A flat-top grille is an ideal choice for cooking the majority of breakfast items, burgers, and pizzas. On the contrary, if you want to serve more barbecues and steaks, we recommend investing in a charcoal grille. Based on the cuisine you plan to serve in your eating space, your choices get narrowed down, and you will be able to make a definite choice.
●    A Gas Range
Buying a gas stove is beneficial for commercial kitchens since electric stovetops will only add to the electricity bill, and it will skyrocket. Moreover, the electric ones are more prone to break. Hence, to get away from all such hassles, we recommend you to buy a range of gas based on the dishes and your menu spread. Ideally, we recommend you go for a large six range gas stove to prepare the dishes fast when serving your consumers.
Vulcan ranges are usually the most commonly used options, and they are durable as well, making them an ideal choice for busy restaurants.
●    A Shelf  That is Stove-Warming Enabled
It is one of the ideal choices that helps cooks during the rush hours and, at the same time, helps save a lot of space. The stove-warming shelves are a must-have since it helps chefs stay organized. It helps the kitchen to stay fast-paced to a great extent.
●    Commercial Hood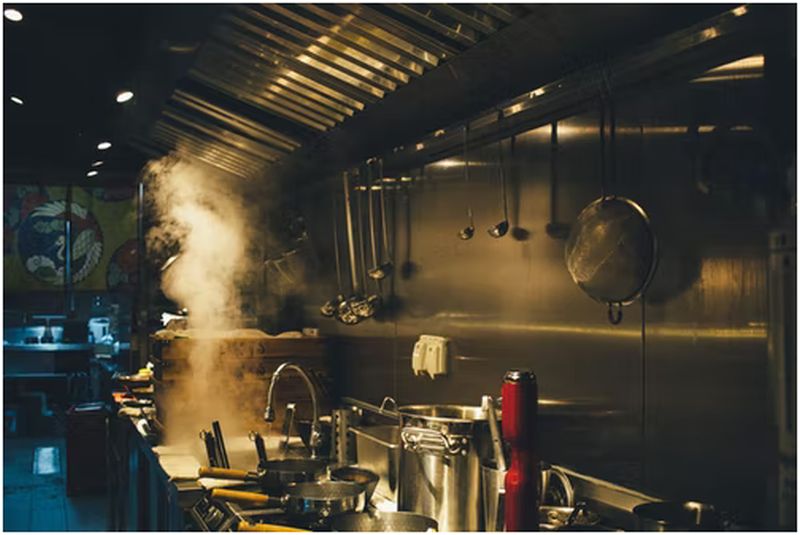 A commercial hood is required as infomercial kitchen equipment since it helps preserve air quality and ensure proper ventilation. The hoods are stated as essential equipment by some states' law, so restaurants in those states should have them. For installing the commercial kitchen hood, you should hire a professional since they are well-versed in the job. Furthermore, if you are not so good with the ventilation system, you should not take risks of any kind and hire professionals only. For safety purposes, it is required that you get all such things right.
●    Prep Tables
Keep in mind that the prep tables should always be made of stainless steel, and there are two major reasons behind this. One is for food safety reasons, and the other one is durability. It would help if you looked for tables with built-in shelves to offer extra storage space in your restaurant kitchen.
●    A Commercial Refrigerator
A commercial refrigerator is of great help since it prevents spoiled food and enables a commercial kitchen to keep all cold items handy. With several models available, you can choose any one of them for yourself or can also go for the reach-in coolers. Such coolers can also be used as prep stations, and though, for utmost efficiency, you will have to keep certain items accessible. You can also consider buying a Vacuum Emulsifier Homogenizer.
●    Fire Extinguisher
A fire extinguisher is of utmost importance for all commercial kitchens. It will not be a safe place to work without an extinguisher. You should also consider choosing a heavy-duty fire extinguisher over the residential models available in the market.
●    A Knife Magnet
Commercial kitchens have several knives with sharp edges that are more prone to harm chefs and others. A knife magnet will help attract all good quality knives. If kept carelessly, the knives may get damaged or ineffective, and the expense of getting them repaired will be high. So a knife magnet is advisable for a commercial kitchen since it helps keep all your knives organized and stored properly.
Conclusion
Before you start a commercial kitchen, you need to be well equipped with the rules and regulations your state follows. After going through the list, you may be tempted to skip buying some of the equipment we discussed, especially when you are at the starting phase and need to manage tough finances. Although, if you have all the required equipment in your kitchen available, your kitchen can operate efficiently and smoothly. We wish you all the best! 
Article Submitted By Community Writer