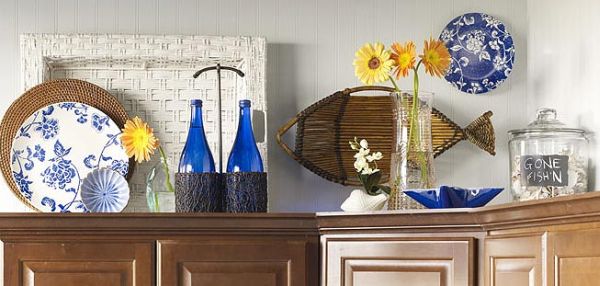 The kitchen is the most important part of your home because all the family members meet and spend some time together while eating the meals. It has to be a comfortable area and at the same time be inviting too. If your kitchen corners are dirt-laden and cluttered no one will like to enter the kitchen or spend some time there. So it is your responsibility to make every part of the kitchen as appealing as possible to entertain the guests and other members.
Since the kitchen cabinets occupy most part of the kitchen, they have to be kept very neat and clean. For added benefits you can beautifully decorate above the kitchen cabinets for enhancing the overall visual appeal. Since the top part remains mostly unused, you can turn it into your creative canvas and decorate it according to your heart's content. Given below are 15 tips for adorning kitchen cabinets from above. First ensure that the area is clean before attempting the decoration.
1. Theme: First, choose theme. If you have already decorated your kitchen with a particular theme, carry it out for decorating the above space. If you have not used a theme, then go ahead and design it according to your creativity.
2. Color scheme: A color scheme is very important for the decoration. If you have used a theme, you will be easily able to select the color scheme for the above area. Bold and brighten the area with attractive colors for gaining the attention.
3. Use words: If you have some message for your family or other guests, then this is the best place to display the message in words. Decorate the space by painting some meaningful and useful message. Use the colors according to the kitchen decor. Avoid using too many words because it may look cluttered.
4. Leaves: Plants are the best companions when it comes to decoration. You can use small planters or even artificial leaves and creepers etc to adorn the above space. The beautiful green foliage will give a stunning look to your kitchen. Choose the color of the plants according to the color of the wall paint used.
5. Roosters: If you have a traditional themed kitchen then it is the best place to have some roosters adorning the space. Place some roosters and traditional themed accents on the top to complement the traditional look and feel of your kitchen.
6. Flowers: Who does not love the look and feel of flowers? If you love to adorn your kitchen with flowers, the best place is above the kitchen cabinets. Place beautiful flower vases by matching the color scheme of your kitchen. If possible you can use fresh flowers from your garden or even go for the artificial ones available in the market.
7. Cane baskets: Cane baskets come in a wide variety of shapes and sizes. If you love their appeal, collect a few baskets of different shapes and sizes. Display them on the space above. Your kitchen will be transformed completely. Ensure that it matches to your kitchen decor. Sometimes you can also try using painted cane baskets to add style.
8. Photo frames: One of the age old traditions of decorating the walls is by using photo frames. Find decorative frames and add appropriate pictures according to your kitchen's theme. Place these images above the cabinets. They are sure to be the attention-grabbers in your kitchen. Frames are made of various materials like metals, wood, plastic etc.
9. Colorful plates: This is yet another way of decorating above the kitchen cabinets. If you love to use ceramic or other plates, then go ahead and use them for decoration. When you go shopping you may come across rare collection of plates and trays with beautiful designs in the center. You can use them as decorative pieces and display them on the top. It will match to your kitchen in a very special way.
10. Library: if you are an ardent reader, here is an opportunity to transform your kitchen into a mini library. Collect all the books you like to read. Most of them can be related to cooking and food. Display them beautifully on the top. Apart from enhancing the kitchen decor it will help you to display your refined tastes and personality.
11. Wine bottles and glasses: Wine bottles and glasses come in a wide variety of stylish shapes and sizes. If you have a good collection, this is the best place to display them. For safety reasons, you can use brackets for securing them.
12. Colorful wallpaper: If you are short of materials and ideas you can decorate the area using colorful wall papers. You can easily find excellent patterns that match well to the rest of your kitchen decor. So cover the area with decorative wall paper and make it look attractive.
13. Lighting: This is one of the best places to attach your lighting fixtures. Find some decorative and large lighting fixtures that can attract the attention in a great way. They may look more appealing in the night also.
14. Vases: Ceramic vases come is different varieties. You can use them with or without any flowers and leaves. Some shapes and patterns look extremely beautiful on their own. You can simply place them in a particular pattern to create a decorative area.
15. Vintage treasures: If you have a collection of vintage treasures, this is the best area to display them. Ensure that you place them in a decorative way and make your kitchen more attractive. Instead of putting them away you can use them for decorating the space above the cabinets.