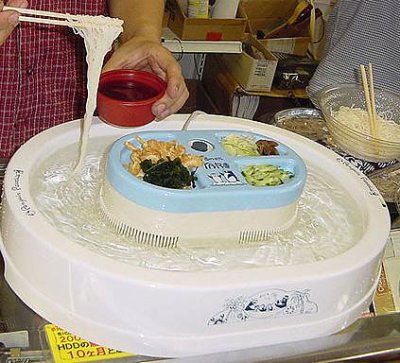 The USB Noodle Strainer is the number one gadget for those who remain glued to their screens and don't have enough time to prepare things.
The USB noodle strainer is a product launched by Japan. We know that the cook pot removes the water, we too love noodles in Asia, so the easiest way to relish them while you are working on computers. It helps to save time and fatigue.
The USB port allows for fast data transfer as well as power transmission, which makes it unique in the port area. USB can connect to peripherals such as keyboard, mouse, scanners, digital cameras, printers, hard disk, gamepads, joysticks and networking connections.
The USB connector provides a single 5 volts wire from which the USB device may connect to the compliance that needs a min 4.375 V and maximum 5.25 V.
To make soumen noodles, simply add cold or iced water to the oval-shaped plastic bowl, connect this strainer to a USB port, and the machine will create a water flow. Next, place the pre-cooked noodles into the water channel and they will be carried along with the circulation. After a few minutes of cooling process, use a pair of chopsticks, and try to catch the strained noodles as they pass by.
Finally, choose the toppings and seasonings of your choice from the center island to spice up the noodles. And your USB cold soumen noodles are ready. The USB Noodle Strainer sells for $120.
Via: Gearlog