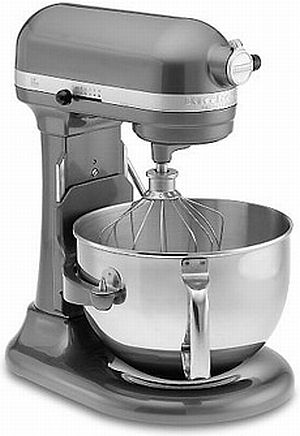 Kneading dough makes my face long. I am always ready to do whole of the kitchen work but with the talk of kneading flour I get irritated and spoil my mood. I have a dough maker at home but even that proved to be a disaster.
Today again I have a ray of hope through this KitchenAid KP26M1XNP Professional 600 Series 6-Quart Stand Mixer ($343.00). These mixers can efficiently mix-up fourteen cups of flour for any food item. It works faster than any earlier mixer as it works on 575-Watt motor. The intelligent mixer automatically shuts down in case of overburden.
It also features 10-speed stand mixer with all-metal construction, electronic speed sensor, soft start minimizes splatter, burnished flat beater, spiral dough hook, wire whip and includes clear two-piece pouring shield. Above all these features it is easy to clean.
Moreover, in case of any problem they provide a warranty of one whole year. Its not only me but I think even you don't make dough with a happy heart. Thanks to the progress in technology, that is providing us with a great comfort in our everyday life. Now, even we can prepare dough hassle-free and in less time.