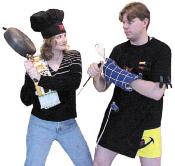 A number of e-mails and comments are flowing in at our end with regard to limiting the kitchen to Women's domain only.
Agreed to it guys!… I'm myself facing problems at my place as my husband has stopped helping me out!
So I've discussed the matter with Nandini, and will soon satisfy all our readers.
Till then, keep reading!!