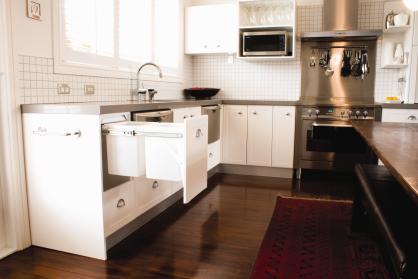 A kitchen looks better with stylish cupboards, broad drawers and a spacious cabinet. It doesn't mean that if the space is less it will not look good. An organized kitchen will be a lovely place to work. Space doesn't matter. Everything should be in an organized manner and you don't have to mess with things to search particular object. Your kitchen will become smart kitchen if you maintain it properly. Not only counter shelf be kept organized, but also the items in the drawers or shelves. There are enormous ways by which space can be used efficiently. You can have cabinets with sliding doors with easy accessibility, smooth handles and in which you can have all equipment of day-to-day use. If shelves are removable, then it will be easy to clean and stack. The drawers should be wide and used to carry linen and utensils so that every item should be within your reach.
1. Pegboard drawer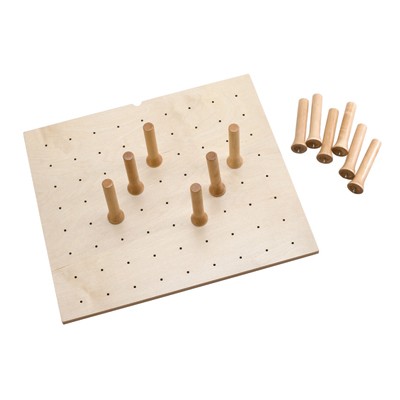 Pegboard drawer is the most convenient way of storage. It looks more like a kid's game. It is the drawer divided into segments, which have holes and pegs into it, organizing all kind of items to store plastic bowls, napkins, platter, and even trays. It is an innovative storage solution.
2. Hidden bins
All the unused items like bulky bags of rice or packets of spices if not sealed may spill out and take more space to be kept in a cabinet. Hideaway bins are the wooden drawers which have stainless steel covered bins in which you can keep regular use of spices or grains. Covered bins will keep the storage without spilling.
3. Drain and dry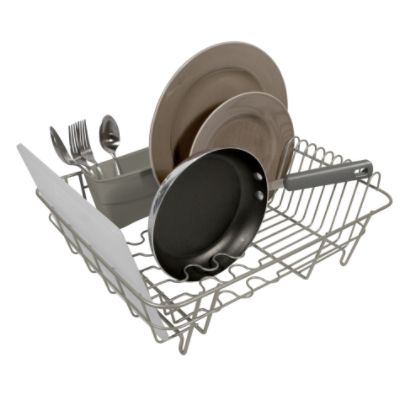 It is a very good concept of sink side rack where immediately you can keep the washed dishes and the water drips down to a removable drainage tray. It is an add on for those who don't have dishwasher and also don't like to wait for the dishes to dry to keep them in the shelves or drawers.
4. Pop-up shelf
There are many untouched appliances which you have not used for a quite long time but still they are on your counter tops and if you keep them in a safe place then almost every time, you have to search hard for it. Pop-up shelf is designed keeping all this in mind. This is strong enough to hold big appliances like mixers or coffee makers. When you are finished with work, gently push it back with its release mechanism.
5. Cold storage
The wire-mesh cabinet drawers can be used as a cold storage. These drawers allow air to circulate, hence items which you can't keep in a refrigerator but which still need a cool place to be stored are kept here, like onions, potato, flour, etc.
6. Knife drawer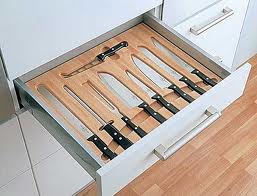 Knife drawer is the protective place to keep all your sharp knives. The drawer has wood slots, which keep all types of knives in a different section in an organized manner and will protect the knife blade as well as your fingers from harm.