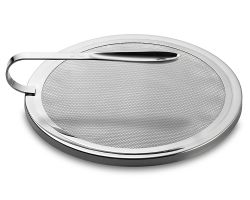 It is often expensive to install equipments in the kitchen to trap oil stains, smoke and curry splashes. All clad presents a stainless steel Splatter Screen to to fit across the rim of the cooking pan to serve as a screen to protect the kitchen wall from curry and oil stains.
The bent handle fitted with the screen saves space and allows easy fitting with the pan. Moreover, the netted screen lets the steam out of the disc and creates a smoke free area in your cooking space.
This equipment is available in the online retail store of Goldas Kitchen at $50 only.