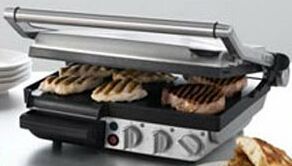 Breville presents a heavy duty grill designed to provide the customers with healthy and tasty meals. The grill is designed to work both as a closed contact grill and open barbecue grill, with the extended feature of tilted and flat positioning. The tilted positionaing is for the purpose of removing extra oils and the flat position is for roasting purposes.
This height control is accompanied by temperature control feature and non-stick, scratch resistant cooking plates in plain and ribbed surfaces. You can get to know whether your food is grilled or not by the help of fifteen minutes timer.
The dishwasher drip tray allows easy cleaning. This product is available at the online retail store of Golda's kitchen for $225 only.