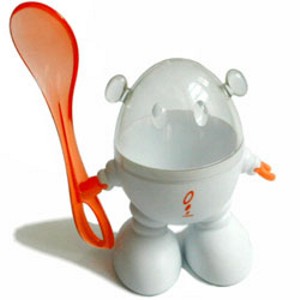 Its an amazing eggcup that comes in shape of a cute little robot. Holding a spoon proudly like a robot would hold a sabre.
The Robocup is programmed to give your breakfast a stylish twist. Just open the lid and put the egg inside it, and as the egg goes through a trance and settles in the new atmosphere, you can dig at it with the spoon provided.
I'm sure the Robocup is more than sufficient to make your little one ask for hardboiled eggs more often.
The funky eggcup can be yours for $12.
Source